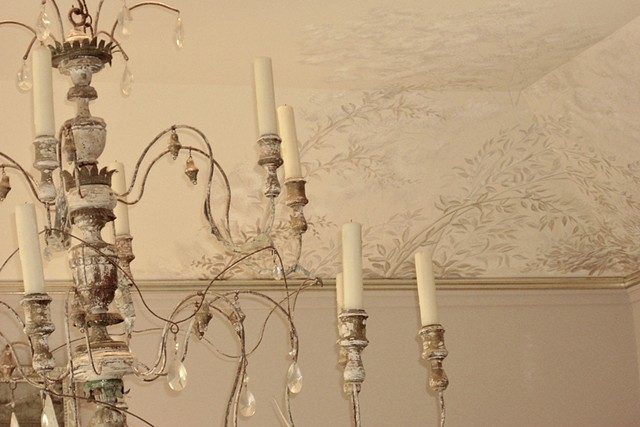 Colette has 20 + years experience as a historical decorative painter working with local contractors, tradesmen, architects, designers and homeowners for a wide variety of decorative painting projects, large and small.
She paints ceiling murals, wall murals, decorative wall borders, arches, niches, panels, doors, furniture, kiln fired tiles, and decorative floors. Hand painted photography backdrops, set props and backdrops are also well in her wheelhouse.
She paints ethereal bucolic landscapes, rural life and florals with vintage flare, and sells directly to collectors from her home studio in California. Historic decorative painting begins with the end result in mind. Ideas are discussed and sketches are worked out and elaborated upon. Research regarding genre, architecture, pattern and ornament are all taken into serious consideration as the design work begins to unfold.
Colette Cosentino creates sample work, for which the design work is to be applied. Often several color ways are offered and sometimes even combined. It's all in the details. Once the design work is approved and complete, the actual work begins.
Because of Colette's 20 plus years of decorative painting experience…..she has honed in her listening skills and truly tailors every project to the the home owner or designer's hopes and desires.
All of the ideas, sketches, design work, paintings, stencil cutting, and multiple sample work are done at her home studio.
This sort of work accounts for a considerable amount of time.
Clients are often surprised how once on the job, Colette moves relatively swiftly with application and hand painting while maintaining beautiful craftsmanship. In most cases, it's easy for Colette to get on a roll, and "in the zone" so to speak. This means jobs are completed in an efficient manner, and it is her goal to make sure her clients are over the top happy with the work accomplished.
Call today to discuss your ideas for your project, business, or home.
(805) 570-9863